PrEP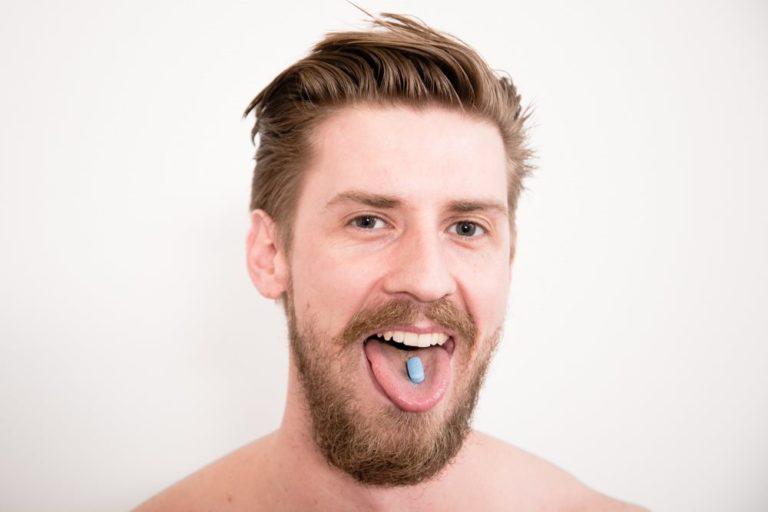 Page last reviewed 26.8.2021
What is PrEP?
PrEP means Pre-Exposure Prophylaxis, and it's the use of HIV medication in purpose of preventing HIV negative people from becoming infected. Usually PrEP treatment is a single pill taken daily. PrEP is a combination of two HIV medicines (tenofovir disoproxil and emtricitabine). The original medicine used for PrEP is called Truvada. The Generic versions of Truvada also exists and is available in almost all European countries. The Generic versions of Truvada are available from beginning of May 2019 also in Finland. Studies have shown that PrEP is highly effective for preventing HIV if it is used as prescribed.
Why take PrEP?
PrEP is for HIV negative people who are at high risk for getting HIV. This includes men who have sex with men who have anal sex without condom with multiple partners and also men who have sex with men diagnosed with a sexually transmitted disease (Syphilis, Gonorrhea or rectal Chlamydia infection) in the last year. PrEP is also recommended for men who take drugs in a sexual context (Chemsex) or take part in sex parties or have used PEP (Post Exposure Prophylaxis).
People who have an HIV positive partner who is on HIV treatment (and has undetectable viral load) don't need PrEP. HIV is not transmitted from an HIV positive person who is on treatment – not even through sex without condom.
How to use PrEP?
The most common and recommended way to take PrEP is to take it daily. If taking daily PrEP, it should be taken approximately same time every day is best to take it at the same time each day. For some people it's better to take the medication with food to make sure that the medicine absorbs in system and to prevent possible stomach symptoms. PrEP has relatively few long-term side effects.
One possibility is to take PrEP on-demand based . If you know that you might have condomless sex 2-24 hours in advance:
Take 2 pills 2 – 24 hours before sex
Take 1 pill 24 hours later
Take 1 more pill 24 hours after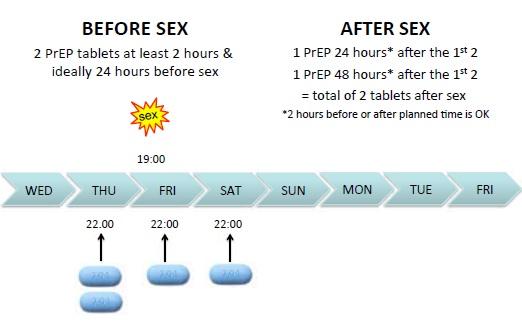 There is both option available in Finnish guidelines for PrEP use for men who have sex with men.
How to get PrEP?
The official guidelines concerning PrEP in Finland was published 17th of April 2019 by the National Health Institute for Health an Welfare. You can find the guidelines (in Finnish) here
Medicines for PrEP can be prescripted by doctor or physician who has enough knowledge of HIV. The physician doesn't have to be specialized in infectious diseases. The guidelines have just been published and the generic medicines have been available since beginning of May 2019. There was only few medical companies who brought generic PrEP for Finnish markets and prices are little bit higher than in some other European countries. Cheapest generic PrEP costs 59 e / 30 pills in Finnish pharmacies (situation November 2020). There is also option to get EU prescription written by Finnish physician and import medicines from other EU country (information for that below).
PrEP counseling, tests and doctor appointment are available in Venereal Diseases Outpatient Clinic (HUS) at Helsinki area and Infectious Diseases Outpatient Clinics at Tampere (TAYS) and Oulu (OYS). Getting PrEP from HUS you need referral. You can ask referral from Hivpoint (from Checkpoint -service, or Hivpoint's chat counselling Monday to Thursday from 12.30pm to 15.30pm). You have to have right for finnish public health care (KELA-card). Doctor and laboratory tests and medicine are then free at Public health care.
PrEP is free in Finland!
According to the new Act on social and health care client fees PrEP treatment will be free of charge starting at 1st of July 2021. With this change, those who have not been able to afford PrEP in the past can also benefit from it now.
Unfortunately the waiting period to start PrEP treatment is now up to eight months at HUS (Helsinki area) which is due to the increased demand, COVID-19 impacts and limited resources. HUS is developing digitalized services that will hopefully ease the queue situation in the future. In many other cities in Finland, you can start the PrEP treatment without a waiting period.
Prep from EU?
The generic PrEP is available in many European countries. It is possible to purchase medicine from EU countries if you have a prescription written by a Finnish physician. In Sweden PrEP generic is available in pharmacys for example Apotek pharmacies (no shipping). Generic PrEP costs around 50 e/30 pills in Sweden at the moment. One option is to order PrEP from Germany based internet pharmacy. One of these pharmacys is: eurapon.de. Info for order in here. Before ordering generic PrEP from Germany you must contact the pharmacy via email and the prescription should be sent to the pharmacy by post. In Germany 30 pills of PrEP cost around 50 Euros (shipping and handling costs vary in different pharmacies). As PrEP treatment requires HIV and some other lab tests every 3 month it's possible to import only 3 months supply of medicines.
Always when getting on PrEP it's important to see a physician that has enough knowledge about PrEP. Before starting the medication some laboratory tests are also required. It's very important to be sure that a person going on PrEP does not have HIV and also regular (every 3 months) HIV and other STI testing is essential when a person is on PrEP. PrEP should be used always under medical supervision.
Contact Hivpoint
If you need info about PrEP or a referral to PrEP treatment please contact: prep@hivpoint.fi