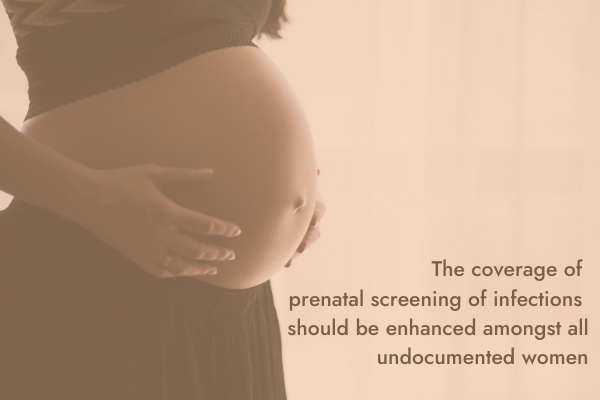 The descriptive cross-sectional study: the population consists of 62 individual pregnancies of undocumented women. The data was collected between 2014 to 2018 from the electronic medical records of the public maternity clinic and maternity hospital in Helsinki, Finland.
Background: In Finland, according to the national legislation, undocumented people who are pregnant do not have access to preventive maternal health care services, as they are only provided to Finnish residents. However, urgent medical care is provided to everyone over the nationality or the place of residence of the person. Undocumented pregnant women constitute a particularly vulnerable group of people who lack equal access to quality pregnancy care.
Study results:
Undocumented people who are pregnant encounter difficulties in accessing pregnancy care and the onset of prenatal care is delayed. Most often the undocumented women attended their first prenatal visit during the second or third pregnancy trimester.
An undocumented pregnant person visits the maternity clinic on average five times, compared to the average of 13 visits.
The prevalence of HIV and HBV was significantly higher amongst undocumented people who are pregnant compared with all pregnant people.
Study conclusions:
Accessing pregnancy care and screening of infections in early pregnancy amongst undocumented would be very important in order to start necessary treatment and prevent mother-to-child-transmissions.
Innovative ways would be needed to encourage undocumented pregnant women to seek and access maternal and child health care in early pregnancy.
Healthcare professionals should be provided with up-to-date information on the maternal and child health care services to which undocumented people and children are entitled.
The law concerning the undocumented pregnant womens´ right to have access to pregnancy care would be best way to secure the implementation of infection screening throughout the country.