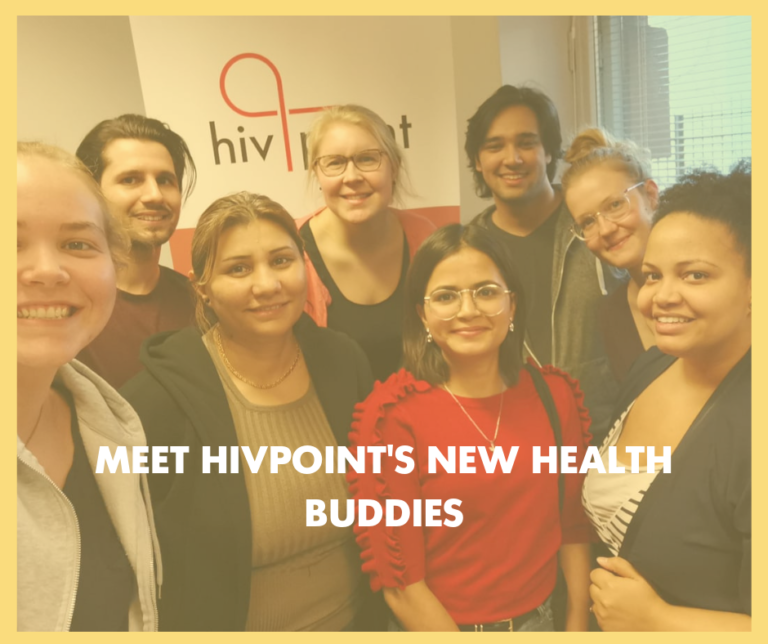 In January this year, Hivpoint launched an exciting new health buddy program! The idea behind the program is finding passionate people to be ambassadors for Hivpoint's cause. The health buddies go into their own communities to lead educational workshops on sexuality and sexual health.
The general goal with the health buddy program is to increase the knowledge of HIV and sexual health in communities that we, here at Hivpoint, are not currently reaching. Sexuality and sexual rights can be difficult topics to speak about openly. Having sexual health advocates who are insiders in communities is a huge advantage for us, as this increases the chance to raise awareness of Hivpoint, the services we provide and how to engage in safe and consensual sexual practices.
We chose four individuals with diverse backgrounds to act as our health buddies. We had two full day trainings in March, where we practiced talking about sexuality and sexual health and learned about potential tools for the health buddies to use in their workshops. Throughout the training sexual and cultural diversity was respected and acknowledged.
The health buddies have designed their workshops and trainings, which will take place all over the Helsinki-area from May to November this year. The health buddies all have exciting and diverse plans for their sessions: some even plan to incorporate their sessions and trainings into existing events! One example of this is the Story Sharing cafés, where health buddies will use the existing story sharing format to inform their participants on how to get tested for HIV and STIs in the Helsinki area. Other health buddies will conduct sessions at public libraries and other accessible spaces. These include info sessions on sexually transmitted infections and HIV where the health buddies will demonstrate how to properly use condoms and educate people on how to stay safe while they explore their sexuality. The health buddies are using creative methods: their sessions will incorporate interactive games, quizzes, open discussions and video material made by Hivpoint.
The sessions are mainly advertised to migrants and refugees from countries in South Asia, the Middle East and North Africa. Some sessions are only for men, others only for women but most are open to all regardless of background or gender identity. To reach people that Hivpoint wouldn't reach in Finnish, some of the sessions are held in other languages, such as Nepali and Arabic.
We are very excited to hear how their sessions turn out – some of the sessions have already taken place, and so far the health buddy program seems to be a success!