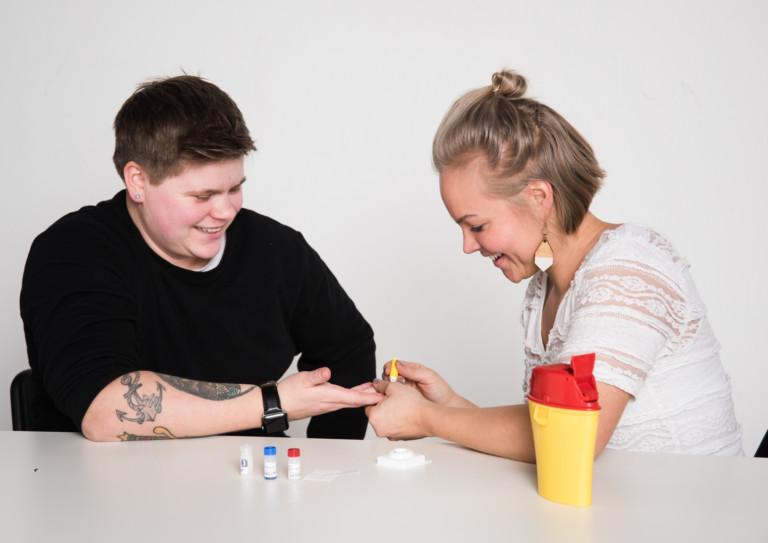 On International Day Against Homophobia, Transphobia and Biphobia (IDAHOT 17th of May) Hivpoint will arrange together with Trans ry an HIV testing event for trans and non-binary people. Hivpoint has arranged testing events for trans people several occasions during the past years. The idea for targeted testing for trans and non-binary people came originally from the trans community and all the events are planned in co-operation with transgender people.
When and where will the HIV testing take place?
The event will take place on May 17th from 12 pm to 4 pm
At the Hivpoint's Helsinki office in Kalasatama, Hermannin rantatie 2 B (Note the new address!!). Find address on the map here >>
Testing is anonymous, confidential, and free of charge.
About the testing service
The test is an HIV rapid test that gives a reliable result in just 60 second. The blood sample is taken form the fingertip and only a small amount of blood is needed.
You can ask or talk about sex from our trained staff! Hivpoint's testing staff is trained as sexuality counsellors and have also received training on trans sensitivity. During your testing appointment you can talk or ask about topics like sex, sexuality, HIV or STI's.
Using a facemask is recommended (facemasks and hand sanitizer are provided).
Please cancel your appointment if you have any flu like symptoms.
The HIV testing is by appointment at this time!
Due to the Covid-19 situation testing is by appointment. You can come along with a friend. If you both want to get tested please mention it while booking the appointment.
You can book an appointment by:
Chat service on Mondays, Tuesdays and Thursdays from 12.00pm to 3.30pm on our website hivpoint.fi
Phone service +358 207 465 705 on Mondays and Wednesdays from 9.30am to 12.00pm
Via email: sanna.salo@hivpoint.fi
About Hivpoint´s office space and accessibility
Our office is wheelchair accessible and has gender neutral toilets. Please avoid wearing strong perfume so that people with allergies or asthma will not get symptoms.
What is IDAHOT ?
The International Day Against Homophobia, Transphobia and Biphobia is observed yearly on May 17 and aims to coordinate international events that raise awareness of LGBT rights violations and stimulate interest in LGBT rights work worldwide.
About Trans ry
Trans ry is non-profit organization funded in 2020. Trans ry wants to bring the voices of trans community to every level of society. The organization aims to enable the interaction between the gender minorities and political decision-makers. Trans ry believes that strong legacy of trans activism go hand in hand with professional knowledge.