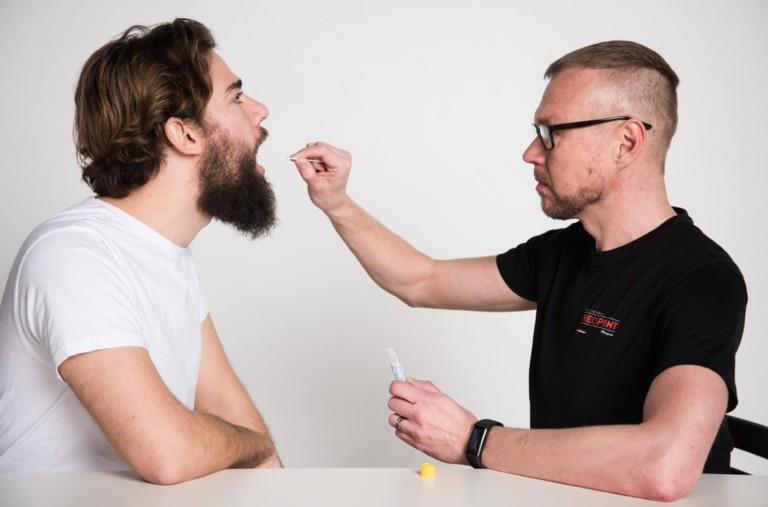 According to a study done by Hivpoint in October 2022, testing for STIs is often deficient in healthcare. Inadequate testing does not apply to clinics specializing in STIs but happens in health centers where, in addition to testing for STIs, numerous other tasks are performed. The most common mistake in STI testing is that only a urine sample is taken, although it would also have been appropriate to take a throat swab.  
Results according STI testing from our summer 2022 survey  
In our survey targeted to men who have sex with men, there were also questions about STI testing. The respondents were well aware that HIV or STIs may not cause symptoms at all, and that a possible infection can only be detected by testing. About 90% of all respondents knew this. Regionally, the matter was best known in the Greater Helsinki area and the Uusimaa region, and based on age, those aged over 25 knew the matter better than those younger than this. 
If the infection may be in the throat, a throat swab should be taken 
Thus, according to the survey, the possibility of asymptomatic infection was well known. On the other hand, the fact that tests should be taken on the basis of sexual habits and on the mucous membranes where the infection may have occurred was significantly less well known.  Only about 65% of survey respondents knew that a urine test is not sufficient to indicate or rule out chlamydia/gonorrhea infection if the infection has been contracted in the throat. Also in this question, regionally the facts were better known in the Greater Helsinki area and the Uusimaa region than in the rest of the country, and the data for young people, those aged under 25, were weaker than those of respondents older than that.  
If you've had anal sex as a bottom tell about it in a testing situation  
If you have been a receiving party (bottom) in anal intercourse, this must be told when taking STi tests so that the tests are taken from the right places. Just under 66% of the respondents knew this important thing about STI testing. In particular, in this question, the level of knowledge of the younger respondents was significantly lower than that of the older respondents. Only about 34% of people under the age of 25 knew that sexual practices should be mentioned when testing for STIs, while about 81% of people over the age of 25 knew about it. This in itself does not surprise, there is not a long time since the school days of the younger respondents. Already in primary school, they should have received essential information about testing for STIs. However, it is known that the school books, lack essential information about sex between men. 
Silence is not golden, at least in STI testing
Testing for STIs will be done correctly if sexual practices have also been discussed before the testing: this way it will be known what and from which places it is necessary to take tests. Syphilis and HIV are always tested from the blood, but chlamydia and gonorrhea should be tested from the mucous membranes that may have been infected. When taking tests, you don't necessarily have to tell all your sexual adventures in detail, but at least tell the nurse where the infection may have come from. In many cases, the shame, norms, and especially heteronormativity associated with sex can make it difficult to talk about sex between men. While talking about sex and sexual habits it can be embarrassing but silence isn't golden when it comes to getting tested for STIs! 
Read other posts about survey conducted for men who have sex men:
>>Is there enough knowledge about the use of prep?
>>A total of 117 people responded to the survey about male-to-male sex, HIV and other sexually transmitted infections