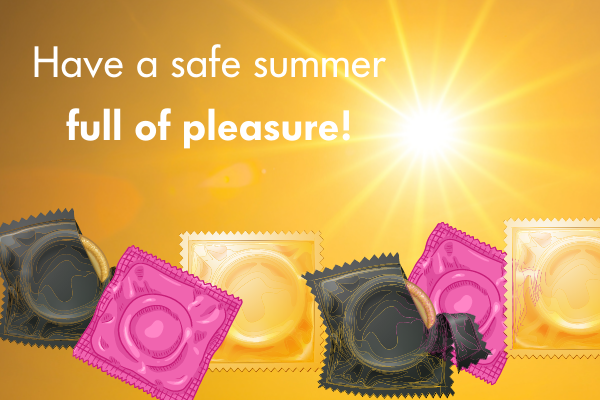 Summer is here and after the lock down summer 2020 it is time to enjoy the light, warmth and company of other people! For many people sex belongs to the summer and we encourage you to enjoy your sexuality either with yourself or with someone else! To be able to enjoy sex completely it is important to make sure to protect yourself from STIs. An easy way to protect yourself is to use a condom and lubricant or dental dam.
Why to use a condom?
It protects against STIs and unwanted pregnancies:
Condoms are the only way to prevent STI transmission during penetrative sex! Read more about the STIs from here!

It might actually increase the sexual pleasure:
Instead of constantly worrying about the risks of sex you can let go and enjoy the moment!

It can help penetrative sex last longer:
Condoms can allow people with penises to go longer without orgasming, which can increase pleasure!

It allows you to have anal and vaginal sex during the same session:
Just change a new condom and you don´t have to be afraid of an infection!

Condoms are easy to access:
You can get condoms from any grocery store, pharmacy or kiosk!
How to use a condom?
Open the package carefully and make sure the condom rolls out the right way. Check the expiration date and that the package is intact!

Pull back the foreskin. Pinch the tip of the condom to get any air bubbles out. Roll it on the erected penis before intercourse or oral sex. The condom needs to be used for the whole act, from the beginning to the end. Remember to use the lubricant!

Right after the ejaculation, pull out the penis. Hold on to the condom when you do this to prevent it from slipping off and to prevent semen getting into your partner.
How to use a condom? Instructions in pictures.
How to find the right condom?
"The condom doesn´t feel good so I don´t want to use it."

That´s a very common sentence and we hear it quite often when asking why someone doesn´t want to use condoms. We really want to encourage people to try different kind of condoms!

For sure you don´t feel like using it if it´s the wrong size or shape! There are different sizes, straight or tapered, thick or thin, smooth or textured condoms. The right fit doesn't feel unpleasantly tight and stays well on the penis. Finding one that fits is an important step for safe and pleasurable sex!
Condom + lubricant = perfect match!
Lubricant is an easy way to increase pleasure and safety during sex! Lubricants are water-, silicone- or oil-based. They can be used on the condom or vagina and anus. Lubricants help keep the condom intact and protect the genital tissues from scratches and tears.
What about a dental dam, what is that?
STIs can transmit in oral sex from the genitals to mouth or throat or vice versa. To prevent STIs in oral sex you should use a dental dam when pleasuring vulva or anus. You can also use a sheet cut from a condom as an oral sex protector. Check out the video how to make a dental dam!
Have a summer full of pleasure!