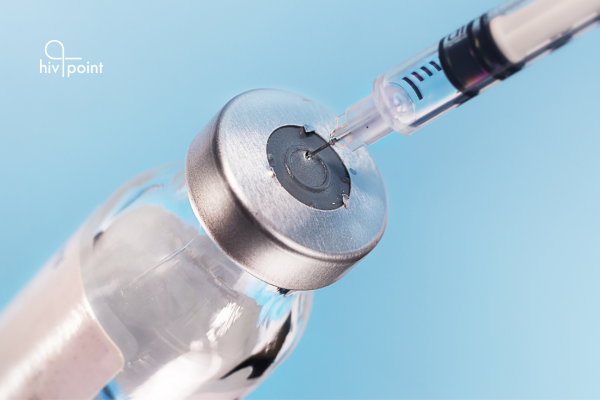 HIV medication is called antiretroviral therapy or ART. It's highly effective and keeps people living with HIV healthy and prevents HIV from transmitting. Usually, drug treatment of HIV is carried out with taking tablet(s) daily. In recent years, tablet therapy has been accompanied by a long-acting injectable medication in which HIV is treated with two injections two months apart. Injectable long-lasting medication is a good addition to the range of HIV drugs and can help to carry out HIV treatment in everyday life. Currently, around thirty patients receive injectable HIV treatment in the HUS area, while in the rest of Finland there are estimated to be some dozens of patients. 
How is long-acting HIV treatment carried out? 
There is currently only one injectable HIV treatment regimen in use. In most cases the medicine in question is first used for a month in tablet form to see its suitability and potential allergic reactions. It's also possible to start directly with the injectable form. Injectable medication can only be started when viral suppression has already been achieved by another antiretroviral HIV treatment regimen. This is because there is not enough research data on whether the regimen used for injection causes viruses to fall below the measurement limit.  
How is the drug injected? 
The drug is taken every two months in the form of two separate injections. The injection site is in the buttocks and the injection can only be given by a health care professional. Pain or tenderness is often felt at the injection site for a few days but will usually decrease as the injections increase.
What factors can prevent the use of injectable medication?
Before starting medication, it is necessary to find out the subtype of the virus and the fact that the virus is not resistant to the components of the injectable drug. The injectable drug has been shown to be less effective against certain subtypes of the virus. In the light of current knowledge, injectable drug therapy is not suitable for use during pregnancy. 
Is the injectable drug effective? 
Studies have shown the injectable medicine to be effective. The concentration of the drug remains in the body sufficiently even and high between injections. Injection should be given every two months within a +/- one week time window to ensure the efficacy of the medicine. However, injectable drugs are not more effective than the tablet form medication. The appropriate medication is agreed together with the infectious disease physician. 
What are the benefits of injectable medication? 
Injectable drugs can help the implementation of drug therapy in everyday life, as it relieves from the daily memorization of taking the drug. Injectable medication can be practical if you travel a lot and it is difficult to transport medicines. In addition, even today there are countries that prohibit access to people living with HIV, and anti-HIV drugs at the border can lead to deportation. For some, it can be difficult to store medicines in a shared apartment where they don't want to reveal their status to house mates.
When daily medication does not remind of HIV infection, many have felt that the significance and stigma of HIV in life has decreased, and the quality of life has improved as a result. 
Research on injectable anti-HIV drugs 
Several different studies are underway around the world on long-acting anti-HIV drugs. Among other things, a treatment regimen that must be injected every of six months. In addition, the use of the currently used product is being studied in a situation where the virus is not below the measurement limit. The results so far have been positive.
There is also an injectable long-acting medication that prevents HIV (PrEP). Long-acting PrEP has been found to be at least as effective as tablet-form PrEP. However, it is not currently available in Finland. 
Sources
Infectious disease physician Pia Kivelä (HUS)