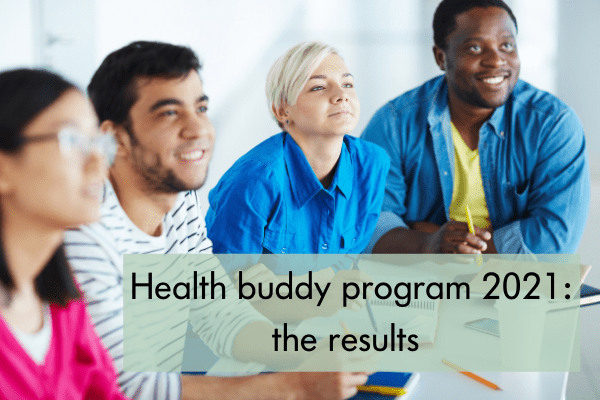 The goal of the Health Buddy program is to raise awareness of HIV and sexual health in communities that we, here at Hivpoint, are not currently reaching. Sexuality and sexual rights are sensitive topics and hard to discuss openly, but it is essential in order to secure sexual health to everyone. In the program, Hivpoint trains volunteers as health buddies and sexual health advocates who organize sexual health workshops in different communities. It is a great opportunity to participate in HIV prevention work, share knowledge about safe sex, Hivpoint and our services.
The results of the Health Buddy program 2021
In 2021 we had six highly motivated and extremely good health buddies with diverse backgrounds. They organized 17 workshops and five workshops were held online and 12 face to face. All together 150 people participated in the workshops.
Over 51% of the participants told they got new information about how to use a condom
Over 53% of the participants told they got new information about HIV
73% of the participants told they got new information about sexual rights
More than half of the participants said the workshop made it easier for them to get an HIV test if needed. We asked how big of an impact the workshop had on the people's lives that participated the workshops and the averige of the answers was 4,0 (on a scale from 1 to 5)! So we can truly say that the Health Buddy program is effective!
How do the Health buddies 2021 describe the program?
"I think the Health buddy as a whole is a great program and also much needed. I have often had people at workshops give me positive feedback so it shows that there is something to teach other people regarding HIV and other things. Also for the Health buddies themselves it's an opportunity to meet and interact with new people, to learn about new cultures, hear new world views. It gives a sense of being part of something bigger."
"Overall, the expereince of giving these workshops showed me how relevant the topic is, and how important it is to have such a conversation with immigrant group."
"The best thing about the Health Buddy program was the excitement and the anticipation of what kind of questions I will be asked, is fun and scary at the same time. The best thing for me is that I was able to give concrete information on prevention and safety while breaking stigma and shame surrounding sexual health and rights."
"Doing a condom demonstration is empowering for me personally. This was the first program that made me do things that I had never thought I would do- showing people how to properly put a condom."
"The work being done by Hivpoint throught the Health Buddy program is very necessary in the fight against eliminating the stigma around HIV and providing correct education in sexual health. I felt I had great support in my role as a health buddy not just from Hivpoint but also from my other Health Buddies."
"The best thing has been the feeling of giving people "the power of information". The fact of seeing that people enjoyed the workshops and learnt something new (many times against their previous expectations) made me so happy and proud. I feel there has been a great balance between the freedom to organize the workshops as we preferred and the support given by the Health Buddy group. Moreover, I think that during the training days we were given all the information we needed to prepare our workshops and that has been really helpful."
"The best thing was that I could meet and get to know many other people. But most importantly, I feel great and it fits my goal from the beginning when I decided to join the program, in which I had a chance to promote about the HIV and STIs testing, the important of its as well as its purpose. I feel like I have helped some people who joined the workshop, to increase the sexual health awareness and some people may not have to live in fear."
Do you want to become a Health Buddy in 2022?
Every year we train again new health buddies to promote sexual health. Next training will be in Helsinki in the spring 2022. When applying you don't need to have prior training in sexual health issues, interest in sexual education and willingness to learn is the key. We train all our health buddies before they start conducting workshops independently. The health buddies will get a payment for their work.
Read more information about the Health Buddy program and how to apply from here>>.