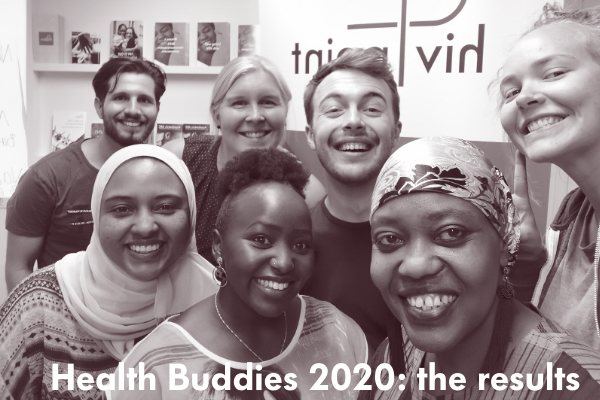 The goal of the Health Buddy program is to raise awareness of HIV and sexual health in communities that we, here at Hivpoint, are not currently reaching. Sexuality and sexual rights are sensitive topics and hard to discuss openly, but it is essential in order to secure sexual health to everyone. In the program, Hivpoint trains volunteers as health buddies and sexual health advocates who organize sexual health workshops in different communities. It is a great opportunity to participate in HIV prevention work, share knowledge about safe sex, Hivpoint and our services. You can read more about the program from here.
The results of the Health Buddy program 2020
In 2020 we had five amazing health buddies with diverse backgrounds. The health buddies organized 22 workshops and due to the covid-19 situation 8 workshops were held online and 14 face to face. All together 202 people participated in the workshops.
We can truly say that the workshops of the health buddies reached all the goals we had set because 74% of the participants told they got new information about how to use a condom, 82% told they got new information about HIV and 70% told they got new information about sexual rights. Like one of our health buddies said: "A difference was being made!"
How do the health buddies 2020 describe the program?
"Feeling the positive effect on the participants of my workshops was amazing. Contributing to preventing people to be infected and that all couples know about their sexual rights is part of our social responsibility."
"I think it is a good initiative to reach out to people of different cultural backgrounds, professions and from different age groups to teach them about HIV/AIDS, sexual health, STIs, sexual rights, condom use etc because these are topics that are rarely talked about in the open and the Health Buddy program acts as a great way to teach these issues to groups that are not easy to reach. The training that the health buddies receive before they can conduct their workshops is a perfect way to also teach / refresh their memory. The materials that the health buddies receive facilitate the workshops so that they run smoothly and with updated information from the flyers."
"It was a fun way to teach issues that are close to my heart i.e. HIV/AIDS and sexual health. There was no pressure to conduct all the workshops within a certain time. I feel that there was a lot of freedom given to us as health buddies to do the workshops in a flexible manner especially during this COVID-19 time."
"The thing that I enjoyed most about the program was that it challenges me to think creatively and innovate to facilitate the workshops. Through my participation in this I got the opportunity of learning more about a new subject and spread that knowledge with others. Furthermore, it gave me opportunities for connecting with valuable people and work in other projects to support the program."
"I think it´s a great program, I have learnt many new things. I think the organizers were very supportive throughout the whole process."
"The best thing about the Health Buddy program was knowing that a difference was being made. Sexual rights were being talked about, HIV stigmas and misconceptions were being broken down, and people that felt they didn't need the knowledge all admitted learning something. I think this work really did make a difference, I wish even more could see it."
Do you want to become a Health Buddy in 2021?
In 2021 we train again new health buddies to promote sexual health. Next training will be in Helsinki in the spring. When applying you don't need to have prior training in sexual health issues, interest in sexual education and willingness to learn is the key. We train all our health buddies before they start conducting workshops independently.
Read more information and how to apply from here.