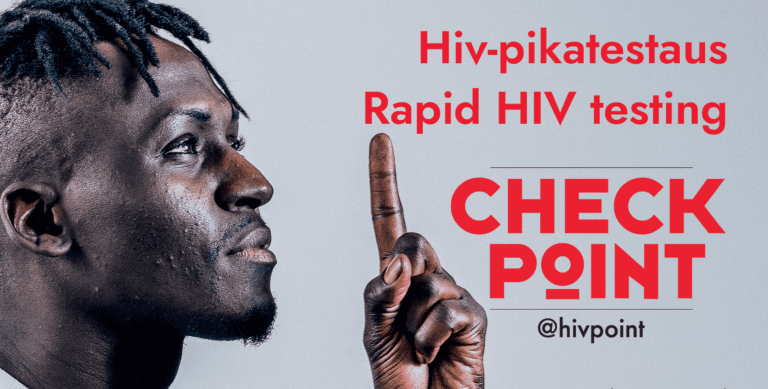 Since October, Hivpoint offers rapid HIV testing two days a week. The new Checkpoint service has easy access to walk-in HIV testing. Checkpoint combines two separate testing services previously aimed at different target groups. Checkpoint is now a more flexible HIV testing service for all our clients.
Checkpoint HIV testing service is for:
migrants
gay, bi and other men who have sex with men
travellers who have had unprotected sex in countries with high HIV prevalence, for example Russia and Thailand
Read more about targeted HIV testing from here >>
Regular walk-in HIV testing is a easy way to get tested
Hivpoint provides low-threshold HIV testing services. In our view, regular, walk-in testing service is the most accessible to our customers.
Some of our clients use the service regularly, some take a test if needed. Some clients have never been tested for HIV before. With this in mind, Checkpoint rapid HIV testing service allows us to offer our customers HIV testing without an appointment two days a week!
Checkpoint – Easy way to get tested
The walk-in testing service is available:
Mondays from 12pm to 4pm
Thursdays from 2pm to 6pm
Anonymous and free of charge
You'll get the result in 60 seconds.
Located in Kalasatama.
Address: Hermannin rantatie 2 B
Checkpoint service offers free sexual health counselling
We are using a rapid HIV test that gives the result in 60 seconds. There is also a plenty of time for sexual health counselling. You can discuss HIV, STIs, sex and sexuality. Most of our staff are sexual counsellors and all have long experience in HIV and sexual health work. You can get the testing service in Finnish and English. We also have a Russian and Somali-speaking employee and use interpreter services if necessary.