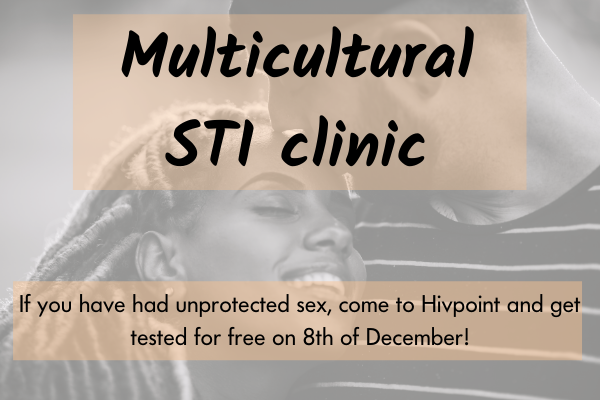 We offer STI testing for migrants and refugees. The multicultural STI clinic with appointment is on 8th of December from 12:30pm to 2:30pm at Hivpoint Helsinki.
You can book an appointment by calling 0207 475 705 (Mon-Thursday 9:30-12:00).
Why should I get tested?
Sexually transmitted infections (STIs) are infectious diseases which are transmitted through sexual contact. If left untreated, STIs can lead to different kinds of complications, such as infertility, different infections and joint problems.
Sexually transmitted infections might not have any symptoms for years, but they can still create long term problems for you and be transmitted. If you have had unprotected sex and you want to know whether you have an STI or if you have developed symptoms, come to Hivpoint and get tested!
At the clinic you can get tested for:
HIV
chlamydia
gonorrhea
syphilis
hepatitis C
The clinic is free of charge and confidential. As a client you have to show your identity card (for the laboratory system) but you don't need a Finnish social security number or residence permit in Finland to use our clinic service.
All clients with positive results will be referred for treatment. For your own benefit, we inform positive chlamydia, gonorrhea and syphilis test results to health care providers so that you can get the best possible treatment.
What:
Testing for sexually transmitted diseases
Where:
Hivpoint Helsinki
Unioninkatu 45 K
00170 Helsinki
When:
8.12.2020
Welcome to the multicultural STI clinic!