Checkpoint Express Clinic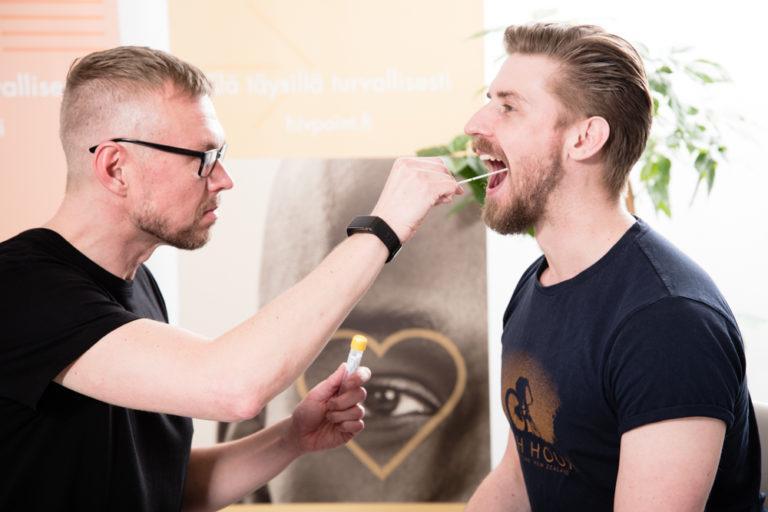 Page last reviewed 25.11.2020
The Checkpoint Express clinic is an STI testing and counselling service for gay, bi and other men who have sex with men. The clinic is a pilot project, where we test how to provide low threshold sexual health services in the future. Clinic service has been popular and there might be short waiting time when coming to clinic. Our staff and clients use facemasks. We offer facemasks for clients, if you don't have your own.
Next clinics: (Note! All testing with appointment due corona situation – testing times during afternoon)
Tue 8th of December : STI testing for gay and bi men

Book a time slot for STI clinic from Hivpoint counselling line: tel. 0207 465 705 (Mon-Thu 9.30am-12pm) or chat: hivpoint.fi (Mon-Thu 12.30pm-15.30pm)
For booking we need your first name and phonenumber
We have only limited amount of testing times
Canceling your booking by e-mail: sami.tuunainen(at)hivpoint.fi (include info: Date, time, first name and phonenumber)
Clinic address: Hivpoint, Unioninkatu 45 K, Helsinki
Some info about the clinic:
– The clinic is for sexually active men who have sex with men. (Also piloting testing for multicaltural people & trans and non binary people few times a year)
– Free of charge.
– The clinic is primarily for guys who are at risk for STIs and don't have symptoms. If you have symptoms of STIs you should see a doctor who can make a decision to start treatment already based on your symptoms.
– There is HIV test available at the clinic, if needed (blood test). You can also get tested for Hepatitis C (blood test) if you are at risk for Hepatitis C (oral sex is not a risk for hepatitis C).
– Chlamydia and gonorrhea samples are taken from urine, throat and anus.
– The syphilis test is a blood test.
– Syphilis, chlamydia, gonorrhea, HIV (and Hep C) samples are sent to a laboratory and we will call clients after a few days to a week with any positive results.
– We are not contacting clients if all test results are negative, so if you have not heard from us in a week, your test results were all negative.
– All clients with positive results will be referred for treatment.
– Remember not to urinate at least 1 hour before giving the urine sample!
– Chlamydia and gonorrhea tests cannot be taken if you are taking antibiotics. The tests can be taken a week after antibiotic treatment.
– You have to show your identity card (for the laboratory system).
– You don't need a Finnish social security number or residence permit in Finland to use the clinic service. Also visitors can use the clinic.
– All client information is confidential and kept secret.
– For your own benefit, we inform positive chlamydia, gonorrhea and syphilis test results to health care providers so that you can get the best possible treatment.
Information for Checkpoint Express CLINIC!
Welcome to the Clinic!