Get tested for HIV
You can get yourself tested anonymously at Hivpoint. The test is free of charge. We provide HIV testing in Helsinki, Tampere and Oulu. We use an HIV rapid test which is ready in 1 minute. The test is taken through a blood sample from the fingertip. Our HIV rapid test is as reliable as the vein blood test performed at laboratories.
It is recommended to get yourself tested 1–3 months from possible transmission. A negative test result is reliable when it has been three months since transmission. During this waiting period, it is important to always use a condom in all sexual contacts.
We don't write certificates of test results. If you need a certificate you must contact public health care, for example your local health clinic.
Walk-in HIV testing in HELSINKI for migrants and refugees
Anonymous and free walk-in HIV testing for migrants and refugees every Monday from 2pm to 6pm, no appointment needed.
Address: Unioninkatu 45 K, 00170 Helsinki. Please take note that our testing services are closed for summer holidays between July 10th and August 12th, 2018.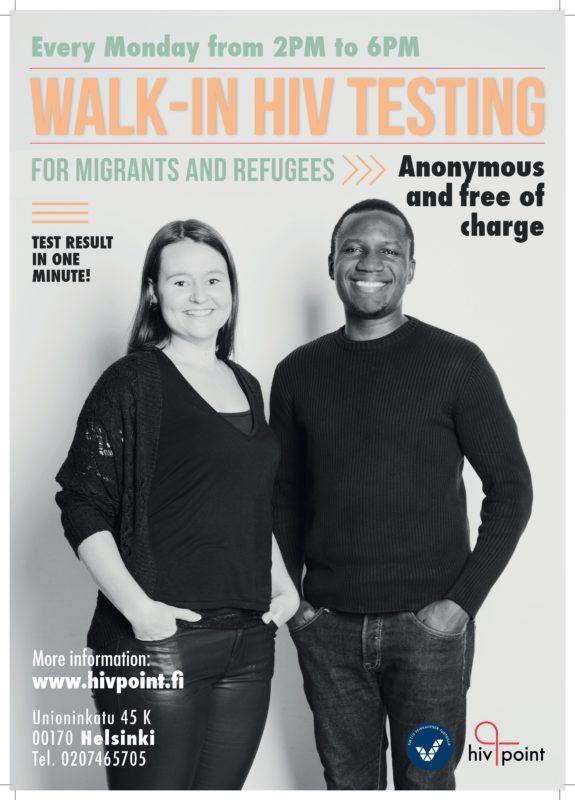 CHECKPOINT
Anonymous and free of charge HIV rapid testing in Helsinki, Tampere and Oulu for gay and bisexual men and other men who have sex with men. Read more
Other testing opportunities
If you do not identify as any of the above, HIV testing is also available for others once a week with an appointment.
Make an appointment by calling our helpline Mon–Thu from 10 am to 3.30 pm. Tel. +358 207 465 705.
If you are unable to make it, it is important that you cancel your appointment by calling the helpline again.
HIV tests are also conducted at:
health centres (free of charge)
venereal disease outpatient clinics (free of charge)
Finnish Student Health Service (free of charge), www.yths.fi
Red Cross Pluspoints (free of charge, anonymous) in Turku, Seinäjoki, Kuopio, Joensuu and Jyväskylä, www.redcross.fi
private clinics (subject to a charge) and within occupational health care