Checkpoint STI Testing Clinic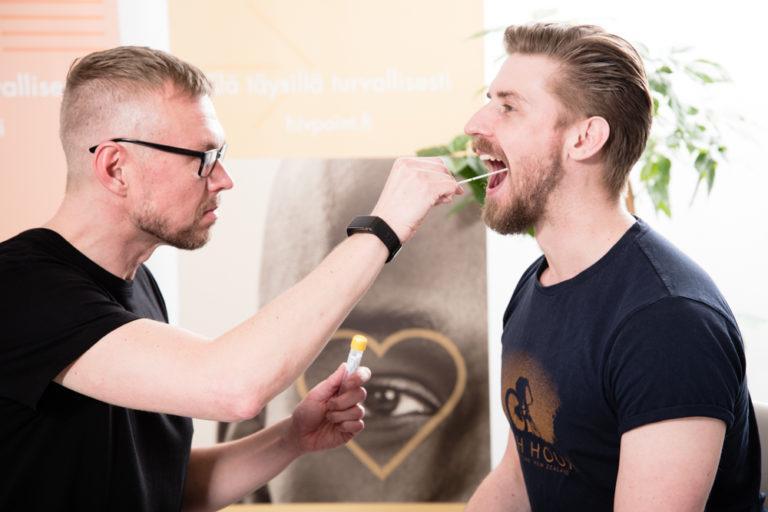 Page last reviewed 29.9.2023
Checkpoint STI Testing Clinic is for gay, bi and other men who have sex with men at Hivpoint.
The clinic is partly organized in co-operation with MSC Finland, Tom's Club with financial support of Spartacus fund.
Next Checkpoint STI Testing Clinic – Not planned at the monent
Book appointment from booking system (Link opens when testing is planned)
For booking we need your name and e-mail address. We also ask for some additional information so that we can refer you directly to the right specialist when you come for the tests.
Clinic has limited amount of testing times. If booking system doesn't show any available times, then all appointments are booked
Cancellation option comes to your confirmation e-mail
More info by e-mail: palvelut@hivpoint.fi or from councelling services >>
Checkpoint Clinic is located in Kalasatama
Our office is located in Kalasatama. The address is Hermannin rantatie 2 B.
How does the Checkpoint STI Testing Clinic work?
The clinic is only for sexually active gay, bi and other men who have sex with men.
All services are free of charge.
The clinic is primarily for people who are at risk of STIs and don't have symptoms. If you have symptoms of STIs you should see a doctor who can make a decision to start the treatment already based on your symptoms. Contact: Outpatient Clinic for STIs in Helsinki.
There is an HIV test available at the clinic if needed (rapid test).
Chlamydia and gonorrhea samples are taken from urine, throat and anus.
Remember not to urinate at least 1 hour before giving the urine sample!
The syphilis test is a blood test or rapid test.
Syphilis, chlamydia, gonorrhea and HIV samples are sent to a laboratory and we will call the clients within few days if any of the test results are positive.
Note! We are not contacting clients if all the test results are negative.
All clients with positive results will be referred to treatment.
Chlamydia and gonorrhea tests cannot be taken if you are taking antibiotics. The tests can be taken a week after antibiotic treatment.
You have to show your identity card (for the laboratory system).
You don't need a Finnish social security number or residence permit in Finland to use the clinic's services. Also people only visiting Finland can use the clinic.
All client information is confidential.
Tests / results from clinic do not come to omakanta service (kanta.fi)
For your own benefit, we inform positive chlamydia, gonorrhea and syphilis test results to health care providers so that you can get the best possible treatment.
Cancellation
To cancel your booked appointment, please use cancellation option at your confirm e-mail or contact: palvelut@hivpoint.fi
Low-threshold STI testing for gay, bi and other men who have sex with men
Checkpoint STI Testing Clinic was found as a part of a development project funded by the Ministry of Social Affairs and Health (2018-2020). The aim of the project was to develop low-threshold STI testing and sexual health counselling services for gay, bi and other men who have sex with men and who have increased risk of HIV and other sexually tranmitted infections. The clinic's services have become popular the results are successful. It has been decided to continue the services of the clinic every 1-2 months at Hivpoint's office in Kalasatama.
Checkpoint STI testing Clinic is developing new ways to carry out STI testing. Based on the clinic's visitor data and results, the services are constantly being developed. However, efforts have been made to implement the testing services as smoothly and quickly as possible.
Free HIV and other STI tests are available at public health care
Checkpoint STI testing Clinic is open only occasionally. At other times, free HIV and other STI tests are available at your own public health center or at STI outpatient clinics.
Several health centers use the online Omaolo service from where patients with no symptoms can get referrals to laboratory for testing sexually transmitted diseases. Then, you may visit any HUSLAB laboratory for the tests.
If you are expreriencing symptoms of STIs, you can contact Helsinki STI outpatient clinic (HUS).