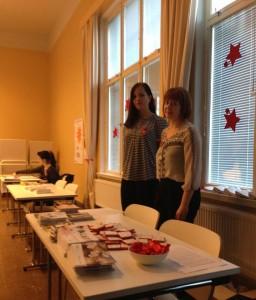 You are welcome to join the event team of HIV Center! The goal of the event team is to plan and execute different kind of events. Our main goal is to prevent HIV infections and to promote sexual health. Participating to these events is a part of this preventive work. Now there is a possibility to volunteer also in English.
Each year we participate to at least ten different events and fairs. We are eager to get new people and ideas to develop our event participating. Now you have a great opportunity to be part of interesting, fun and meaningful health promotion work!
To become our volunteer, you must be at least 18-years old. Previous volunteer work, experience of organizing events or studying/working in social- or health field is a benefit, but you can also come to learn with us. Our volunteers should have good interaction skills and courage to talk to new people in events and fairs. Our volunteer has to respect sexual and cultural diversity and should be able to openly discuss about sexual health with different people.
HIV Center will train the volunteers 2nd of April. We hope that as our volunteer you are able to participate to at least two events during year 2016. To apply as a volunteer, please send an informal application to the email address niina.laaksonen (at) hivpoint.fi. The application should contain your name, age, where do you work/study and why would you like to become HIV Center's volunteer. We will interview all volunteers.
Apply now!
niina.laaksonen (at) hivpoint.fi